SpasmsConvulsionsEruptions (UCLA)
::Spring 2008 Research Studio – SpasmsConvulsionsEruptions – New Sensations of Movement::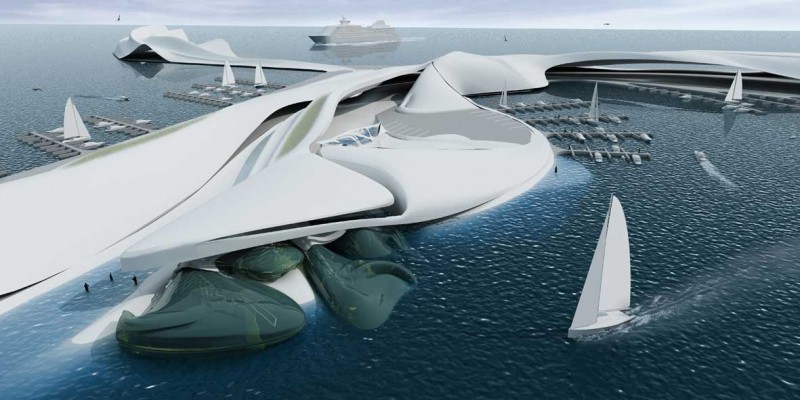 For the Milonga project, looking to smaller scales of design for inspiration, we used line work as a means to articulate surfaces and define an overall "effect".
In the urban plan, line work is used to convey a sensation of "billowing", as if the urban plan was being pulled towards the marina and each tower struggled against the site forces. Line work is careful not to be too aggressive, but to appear sensual with moments of contortion. At a finer level of detail, a system of perforation was applied at various scales, which worked in concert with the larger topological moves.
On the site, these perforations formed structure, commercial program and defined site planting materials. In the towers, the perforations provided aperture, but were designed to increase in size as they moved away from the outer tower skin and so accentuate the functional articulation of the towers. Programmatically, the project places an emphasis on aesthetics working in concert with pure functionality.
Awards:   Project selected for the 2X8:SKIN EXHIBITION
______________________________________________________
Year:  spring 2008
______________________________________________________
Course:  M.Arch II, UCLA – Research Studio:
SpasmsConvulsionsEruptions -new sensations of movement
______________________________________________________
Location:  Hernesaarenranta Peninsula, Helsinki (FI)
______________________________________________________
Description: urban plan for Hernesaari area;
architectural vision for a yacht club
______________________________________________________
Instructor:  Prof. Kivi Sotamaa
______________________________________________________
Students:  Laura Pedata; Aaron Forbes; Josh Howell
______________________________________________________
Activities:  design; drawings; 3d model+rendering; physical model;
research on dynamic digital design techniques
______________________________________________________
Related links: AIA – Los Angeles
______________________________________________________