Albino Library Extension_Campobasso
::Architecture Competition for the Renovation and Extension of the Albino Public Library::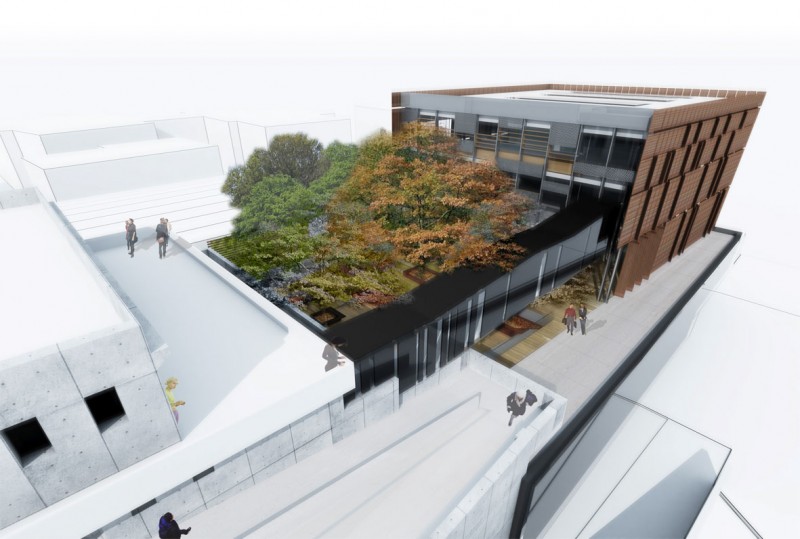 The aim of the project was to transform the Library in a live organism, capable of relating with the social and cultural context of the territory, searching for new material and immaterial spaces and relying on what we inherited form the past in cultural (the historic books collection) and environmental (the interior court with secular trees) terms. The main goal of the extension is to create new and larger areas for the public (reference sections, reading rooms, computer workstations), for the management of library resources (book storage and archives) and employees (administrative offices and services), with particular care for equal access issues. The project evolves around the central green open court where the ancient trees are located and will be preserved and valorized. The vegetation enters the new structure through the new auditorium's foyer and a suspended path overlooking the court connects the old and the new structure. Therefore the court becomes the pivot element of the project which separates but, at the same time, brings the two structures together form both a functional and a visual point of view.
Awards:  -
______________________________________________________
Location:  Campobasso (IT)
______________________________________________________
Description: Renovation and Extension of the Albino Public Library
______________________________________________________
Client: Campobasso District
______________________________________________________
Role: design team member
______________________________________________________
Budget: 1.950.000,00 €
______________________________________________________
Surface: 4000 sq m
______________________________________________________
Year: February 2009
______________________________________________________
With: Thomas Herzog, Alessandra Battisti, Loris Rossi, Gabriele Misso.
Collaborators: Emanuela Romiti, Letizia Martinelli, Mauro Greco,
Valentina Murgia, Cristina Cardinale.
______________________________________________________
Featured in: -
______________________________________________________
Related links: -
______________________________________________________